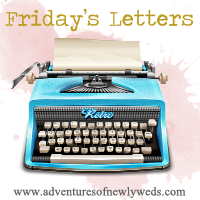 Dear Friday, Thank you for coming quickly... although now that you're here I feel a little overwhelmed with the things I have left to do before we leave this afternoon.
Dear Blog, You are doing a really good job of distracting me from the things I need to do.
Dear Sky Valley, Georgia, When I saw that your low temps would be in the 50's this week, way up high at our cabin, I died. I am so glad to be away from temps like 108.
Dear Samson and Lyla, Please be kind to your dad while I am away. He doesn't take care of you 24/7 often and I'm not sure he's ready for it...
Dear Something Borrowed, I recorded you, I'm watching you, but you're kinda dumb.... so why can't I turn you off?
Dear Husband,
I haven't spent seven days in a row away from you since we've been married and I am going to miss you!
So
so very much... I hope you have fun "batching" it while I'm away. Don't eat too may potato skins and frozen pizzas ;) And pleaseeeeee keep the floor swiffered, if nothing else! PS: I love you forever more than anything!
Dear Ephraim,
You are the
cutest
thing I've ever seen
and I hear you awake in your crib so I am coming to get you!
Happy Friday Lovelies!