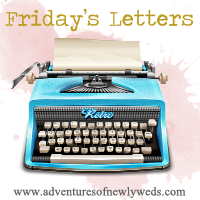 Join the party! You know you want to ;)
Dear Ashley,
Friday Letter has quickly become one of my favorite days of the week, and honestly I'm a little jealous that you came up with the idea and not me. Haha!
Dear E, I am so sorry you are not feeling good. Stupid upper respiratory infection they cant treat with medicine!! It hurts my heart when you are sick so pleaseeeee feel better soon. Thanks!
Dear Samson,
You must have read my mind on Tuesday. The first thing I want to do when I get in at 9pm is clean up a big #2 mess out of your crate...
NOT.
I really need you to stop eating grass when we let you out to do your business. It gives your worms and that means less money in our bank account. I need you to be healthy so we can stud you and make bank....
I mean after all that's why I bought you.
Dear Lyla, I'm glad you're the good dog of the family!
Dear E part 2, You walked yesterday.... 15 steps to be exact. Secret is out.... So you might as well just make it an every day occurrence.
Dear Husband, I can not wait for our family fathers day breakfast tomorrow. I can already smell the pancakes! I'm also pretty darn excited about our adventures once we finish breakfast, but that's mostly our little secret for now. PS: I love you!
Dear lovely wonderful blog readers friends,
You guys are seriously the best. Thank you for all your sweet comments, and for sticking with me and reading my posts,
even when I talk about things like financial small groups and what not
. There will be more exciting posts to come. I
promise!
Happy Friday y'all!